Home
>
Sensor Fusion
> Collision-avoidance of High Speed Mobility using Environmental High-speed Vision
Collision-avoidance of High Speed Mobility using Environmental High-speed Vision
Summary
We propose a driving safety support system (DSSS) which employs high-speed vision installed in surrounding environments such as highways, urban roads, and crossroads.
The system is aiming to recognize traffic situations including hidden places from mobilities and utilize such information for driving safety support. The system consists of synchronized high-speed cameras which acquire images every millisecond, and mobilities capable of communicating with these high-speed cameras via communication stations.
We conducted experiments on collision avoidance and demonstrate that the proposed system can resolve the deficiency of readiness, which is common to environmental vision systems, by introducing high-speed vision.
This system contributes to further ITS technology on the grounds that it enables us to realize obstacles very soon after they appear and also enables the mobility to avoid them due to information on obstacles.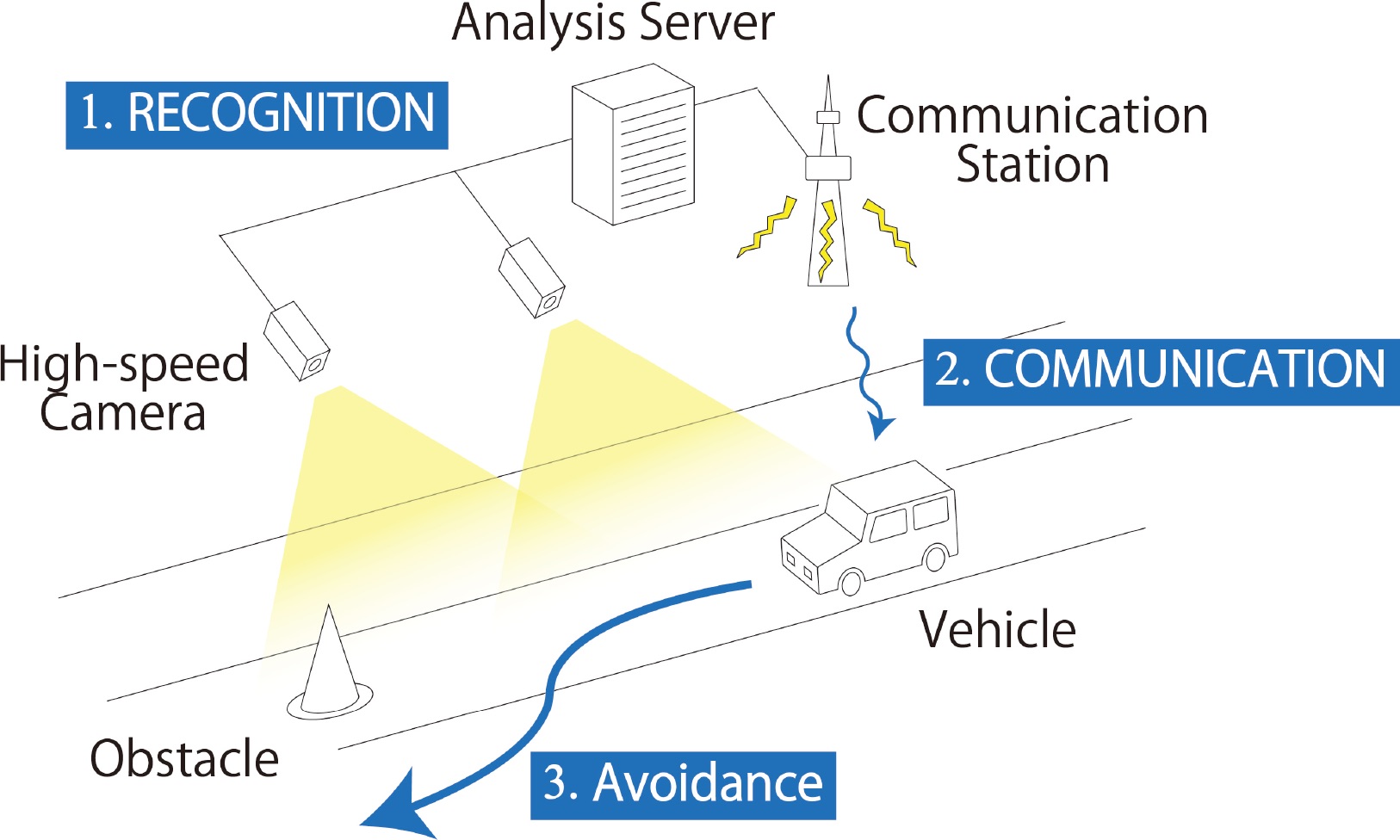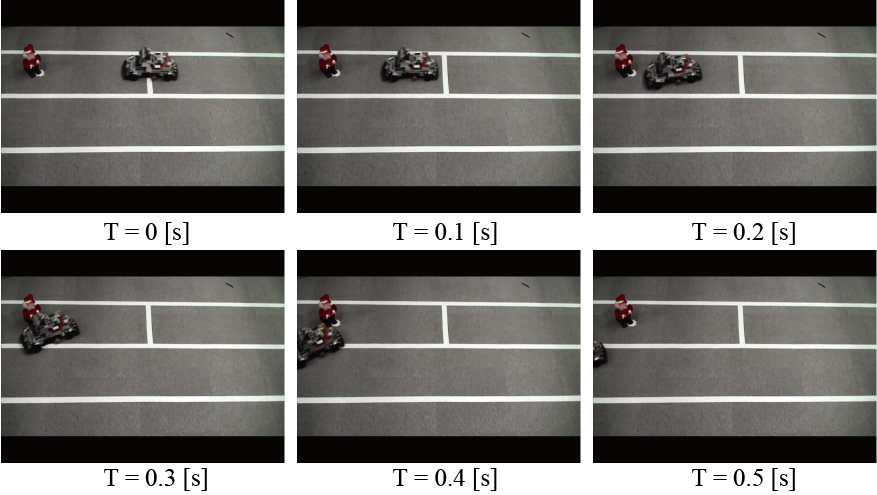 Reference
Masahiro Hirano, Akihito Noda, Yuji Yamakawa, Masatoshi Ishikawa: Collision-avoidance of Intelligent Car using Environmental High-speed Vision, 14th SICE System Integration Division Annual Conference(SI2013) (Hyogo, Japan, 2013.12.18)/Proceedings, pp. 940-941 (2013)
Akihito Noda, Masahiro Hirano, Yuji Yamakawa, Masatoshi Ishikawa: Environmental Recognition Around Vehicles Based on Networked High-Speed Vision System, 14th SICE System Integration Division Annual Conference(SI2013) (Hyogo, Japan, 2013.12.19)/Proceedings, pp. 1046-1048 (2013)
Akihito Noda, Masahiro Hirano, Yuji Yamakawa, Masatoshi Ishikawa: A Networked High-Speed Vision System for Vehicle Tracking, 2014 IEEE Sensors Applications Symposium(SAS2014) (Queenstown, Newzealand, 2014.2.20)/Proceedings, pp.343-348 (2014)
Masahiro Hirano, Akihito Noda, Yuji Yamakawa, Masatoshi Ishikawa: Collision-avoidance Support System of High-speed Mobility based on Environmental High-speed Vision, The Robotics and Mechatronics Conference 2014(ROBOMECH2014), (Toyama, Japan 2014.5.27)/Proceedings, 2A2-G06 (2014)
Masahiro Hirano, Akihito Noda, Yuji Yamakawa and Masatoshi Ishikawa: Collision avoidance of Intelligent Vehicle based on Networked High-speed Vision System, 11th International Conference on Informatics in Control, Automation and Robotics (ICINCO2014), (Vienna, Austria, 2014.9.1)/Proceedings, Vol.2, pp.539-544 (2014)
Masahiro Hirano, Akihito Noda, Masatoshi Ishikawa, Yuji Yamakawa: Networked High-speed Vision for Evasive Maneuver Assist, ICT Express, Volume 3, Issue 4, pp.178-182 (2017)