Home
>
Sensor Fusion
> High-speed and High-precision Robotic Hand for Micromanipulation
High-speed and High-precision Robotic Hand for Micromanipulation
Summary
In recent years, industrial robots have been widely introduced to manufacturing process for automating and speeding up production. However, some tasks are still difficult for industrial robots to complete and are remaining to be automated. For example, skilled human operators conduct assembly of the watches as yet. In order to realize fast automation of manipulation of micro objects, we incorporated high precision to existing high-speed robotic hand, which realized dynamic manipulation of objects such as dynamic catching and pen spinning. The high-speed and high-accuracy hand realized high operation accuracy of several micrometers at finger tip with the same extent of operating speed as the existing high-speed hand.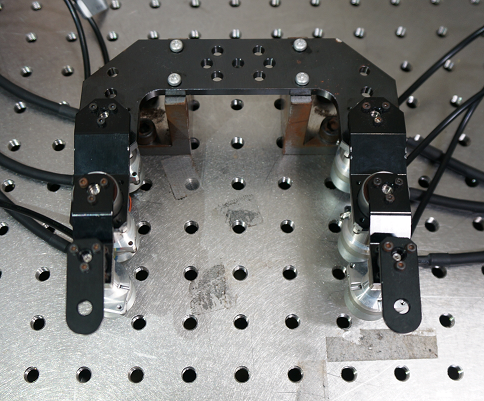 Fig.1 The overview of the hand.
References
Hiroshi Sato, Yuji Yamakawa, Taku Senoo, and Masatoshi Ishikawa: Development of a High-speed, High-accuracy Robot Hand for Micromanipulation, 2016 IEEE International Conference on Robotics and Biomimetics (Qingdao, China, 2016.12.3-7)/Proceedings, pp.1535-1541.